You ever have one of those days with your kids?
You know, when you find them coloring on your favorite upholstered chair…
or your favorite toddler has removed his dirty diaper and hid it somewhere in the house – and the dog was the one to find it…
or somehow an entire gallon of milk has spilled onto your carpet…
or you find that disgusting sippy cup filled with some horrible mystery beverage that went missing 3 weeks ago…
or you know, when all of that has happened and it's not even noon yet!
I love my kids to pieces and am so blessed to get to stay home with them, watch them grow and tickle their toes, but let's face it, sometimes Mama needs a break. I was having one of those days (weeks really) when my mom called out of the blue telling me to call the babysitter we were going shopping! Oh my goodness it was sooo nice, we went out to lunch and actually were able to have an uninterrupted conversation. Then we hit up some of our favorite furniture and clothing boutiques. It was so relaxing to wander around with no time table and enjoy walking in the sunshine.
Then I found this table…
it was love at first sight…
and the perfect chippy blue birdcage was perched upon it calling my name…
Oh, yes! We are going to go home together and live happily ever after (until my kids break you or color on you),
but, wait, no! There was no price tag on it (what it's free? even better!).
So, I asked the saleswoman about it and she explained that it wasn't for sale – nooooooooo!
Why, oh, why?
Apparently the table is broken, so they didn't feel comfortable selling it to anyone and they just keep if for display purposes.
I tried not to beg and plead, but I left broken-hearted – I like to think the table was a little sad too.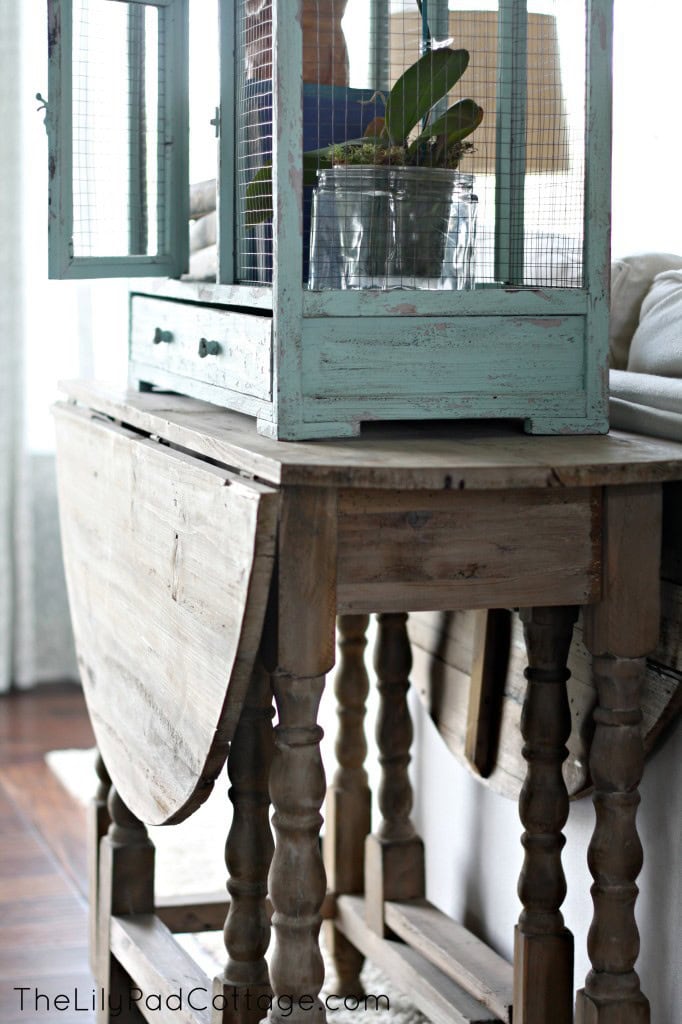 So, on we went with our shopping. Luckily our car was parked outside of the store with the table and we stopped in one more time before we headed home.
The saleswoman came running up to me saying "I'm so glad you came back, I talked to my manager and she said you could buy the table, as long as you understand it's broken, and non-returnable. We'll give it to you for $100."
Hooray! I held back and didn't do the happy dance in the store (I saved that for home), but I just knew we were meant to be!
So, now you are thinking, wait wasn't this post titled My Mother's Day Gift?
Well, it was my Mother's Day gift – the Mr. is such a savvy shopper! I called him up at work, and asked him if he got me a Mother's Day gift yet.
When he responded "um, when's Mother's Day again?" I explained not to worry, he just bought me a table. :)
To which he responded "how did you know exactly what I was going to get you? It's like you read my mind!"
We make such a good gift shopping team, love that guy!
And we all lived happily ever after…after a few touches of wood glue.
NOTE: The Mr. would like it noted that even though he didn't know that minute when Mother's Day was, he was a very good husband and let me sleep in and made me amazing Eggs Benedict for breakfast on Mother's Day. If you follow me on instagram you can see his handiwork.
He would also like it noted that he pulled diaper duty all day :)